| | |
| --- | --- |
| This Page | How the work came here and subsequently left. |
| Story of Radar Sites | What went on in in Purbeck. |
From May 1940 to May 1942 Worth Matravers was the nerve centre for radar development in the UK. Top radar scientists tried out new ideas for better radar systems: with longer range, and for navigation in aircraft. When we think of radarátoday, we think of a rotating aerial and a display which looks like a map - this was first built at Worth.
Serious radar development began at Orfordness on the Suffolk coast in March 1935, moving in 1936 to Bawdsey nearby. For more about the beginnings of radar in the UK see the radar story page. As soon as war broke out, theáscientists were evacuated from Bawdsey to Dundee, and then moved again to Worth Matravers in May 1940.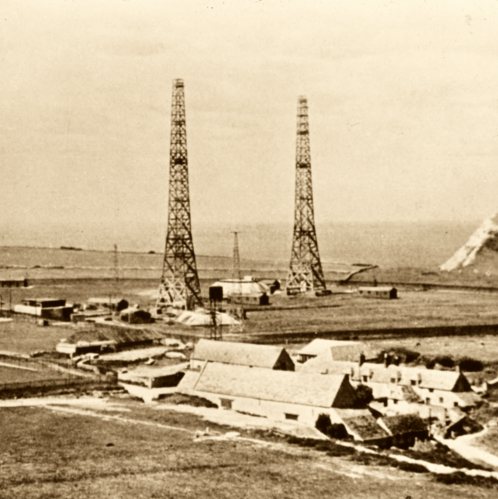 Chain Home masts: A-site at Worth Matravers
Worth was chosen because it had a flat cliff top site, good for testing radar, and was then further away from German occupied territory. Almost nothing is left today except some foundations on the cliff and a small hut used as a field studies centre.
The Germans had also built radar defences, and in February 1942 British paratroops raided one of their radars at Bruneval on the French coast. They brought back key pieces of the radar to work out how good it was. After this, Churchill thought thatáthe Germans might raid Worth, and ordered all radar research to move inland. The scientists hastily moved to Malvern in May 1942. About 200 people came to Worth in May 1940; by May 1942 about 2000 people worked here!
The RAF continued to operate radars at Worth until well after the war, and the 360 foot (110 metre) tower was only taken down in the early 1970s.
In the early 1990s the Purbeck Radar Museum Trust was formed to raise public awareness of the radar work that went on here, its importance in World War II and subsequently. Members of the Trust have organised various exhibitions and events and in 2001 a radar memorial was unveiled as St Aldhelm's Head. An historic radar exhibition was also opened at the Worth Matravers CafÚ & Craft Centre in July 2006 - subsequently moving to the Swanage Museum & Heritage Centre.